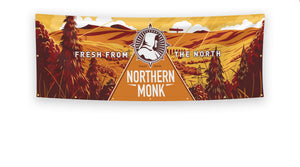 Printed Custom Vinyl Banners
Personalised Occasion Banners
Printed Pull Up Roller Banners
Welcome to Award Banner and Signs, Leeds, Yorkshire
Hello and welcome to Award Banner and Signs, Leeds. We are one of the UK's leading Vinyl Banner Printing and Large Format Print Specialists. Our aim is to provide you with an unbeaten service from our friendly team along with a fast and simple ordering process, supplying you with a with high quality products with a fast turnaround at a great price. We understand that visual products are vital to any company and we offer a wide range of affordable large format print products as a solution to these needs. Whether you are looking for a one off birthday banner or you need us to organise your marketing campaign to multiple retail outlets, leave it to us.
Over the last 25 years we have established ourselves as the preferred print supplier for many small to large businesses ranging from Hotels, Nightclubs, Restaurants, Local Councils, Museums, Garden Centres, Supermarkets, Charities, Breweries, Food Festivals and Live Music Events among many others. We also provide direct service with other Printers, Design Agencies and Sign Companies which means we are able to print and supply their jobs in white label packaging and deliver direct to their client at no extra cost.
Our products include: Printed PVC Banners, Printed Mesh Banners, Printed Pull Up Roller Banners, Printed Scaffolding Banners, Printed Construction Fence Banners, Pre-Designed Banners, Poster Printing, Printed Foam Board, Printed Fluted Board and Printed Aluminium Composite.
Our prices are very competitive and we offer value for money. We can offer such great prices as our products are produced and finished by our in house team using the latest technology available. We also offer a design service in which we can take your concept through to the final product, whatever your requirements involve. Once your job is signed off and produced, our products are usually ready to collect or despatched within 48 hours but as everything these days is last minute, we can even offer a same day printing service if needed.
So please, make yourself at home and take a look around. If you need a custom quote or would like to discuss anything please contact us using the details below in the footer.